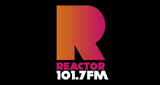 Reactor FM
Country:
Honduras
Reactor 106.9 FM llega como opción diferente para la audiencia del FM cansada de la misma música y no encontrar contenidos interesantes en el dial, somos una radio de música alternativa que nace en San Pedro Sula sus creadores Rigel Sierra,Octavio Lemus y Oscar Lema fundaron la estación en el año 2015 donde inició a tocar temas indie y nunca sonados en las demás emisoras del país , sus primeros eslogan fueron LA FRECUENCIA CORRECTA, ESTÁ EN TI , hasta llegar a TODAS LAS ALTERNATIVAS , desde el 2015 se crearon espacios dedicados para la música nacional y con los programas Random Radio Show , Nadie Sabe Nada , Ecos del Rock, Sound City y con ellos el nombre de la estación REACTOR 106, a partir del 2017. Tenemos una mezcla de sonidos ROCK, INDIE , ALTERNATIVO que hacen que sea la única estación en Honduras con este estilo y formato. Más
Reactor FM reviews :
No reviews added yet. Be the first to add a review for the station.
Leave a review