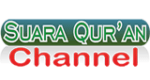 Radio Suara Quran
Radio SuaraQuran 94.4 FM Solo dalam perjalanan selama 2 tahun ini dalam berda'wah dan menyebarkan ilmu. Alhamdulillah mendapat sambutan dari kaum muslimin di Solo dan sekitarnya, banyak mendapat hidayah kepada kebenaran atas taufiq Alloh Azza Wa Jalla.
Radio Suara Quran reviews :
No reviews added yet. Be the first to add a review for the station.
Leave a review