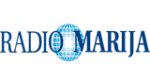 Radio Marija – Latvija
Radio Marija visā pasaulē darbojas uz brīvprātīgo kalpošanas pamata. Labprātīga savu talantu un laika ziedošana Dieva godam un jaunās evaņģelizācijas labā ir daļa no Radio Marija harizmas. Tā ir lieliska iespēja ikvienam īstenot savus talantus Evaņģēlija pasludināšanas darbā, piedzīvojot kalpošanas prieku. Ticam, ka Dievs īpaši lietos ikvienu cilvēku, kurš atsauksies šai kalpošanai, lai ar Radio Marija starpniecību paveiktu Latvijā lielas lietas.
Radio Marija – Latvija reviews :
No reviews added yet. Be the first to add a review for the station.
Leave a review