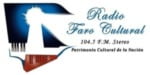 Radio Faro Cultural Guatemala
RADIO FARO CULTURAL El nuevo transmisor es de 6,600 vatios de tecnolog?a moderna ecol?gica que permite ahorro en energ?a, cuenta con un sistema de UPS de 20 KVA que protege el equipo y mantiene carga en su banco de bater?as hasta para una hora al tener cortes de energ?a el?ctrica; se colocaron pararrayos y varillas. Información Radio Faro Cultural, del Ministerio de Cultura y Deportes, Patrimonio Cultural de la Nación, nació el 2 de octubre de 1950 como Radio Faro Aviateca. Información adicional En Guatemala, se ha alcanzado esa tecnificación en todos los medios radiales RADIO FARO CULTURAL, una de las entidades de mayor prestigio y calidad en Guatemala, cuya fundación se remonta hacia el año de 1950, para ser más precisos el día dos de octubre, en una de las instalaciones de la empresa de aviación AVIATECA. De allí se tomo el nombre y en lo sucesivo se conociera como RADIO FARO AVIATECA.
Contacts
Radio Faro Cultural Guatemala reviews :
No reviews added yet. Be the first to add a review for the station.
Leave a review