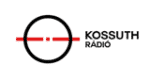 Kossuth Rádió
A Kossuth Rádió a Magyar Rádió első számú csatornája. Híreket, kulturális, tudományos és közéleti műsorokat közvetít. Itt hallható naponta többször a Krónika, a rádió egyik leghallgatottabb műsora. A Kossuth Rádió struktúrájának lényege a kiszámítható műsorszerkezet. Új, hangzásvilágban, mindig ugyanabban az idősávban hallható percre kész aktualitásokkal várják a műsorvezetők színes, hiteles műsoraikkal a hallgatókat. A csatorna hangja Varga János, a rádió egyik műsorvezetője.
Kossuth Rádió reviews :
No reviews added yet. Be the first to add a review for the station.
Leave a review